Ch Eraky Enchanting - Maddie
DOB: 25/02/2006
Hips: 0,0 | Elbows: 0,0 | PRA: Clear | EIC: Clear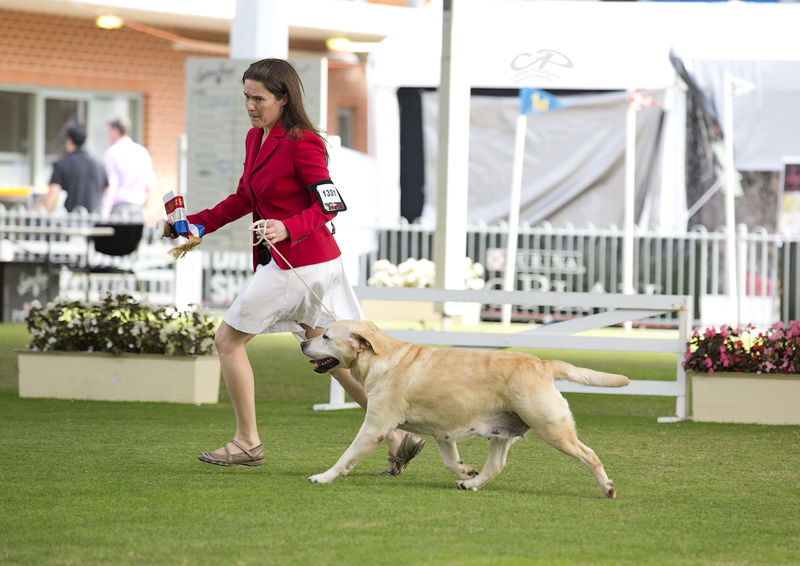 Achievements:
Opposite Veteran in Show at the 2016 Labrador National
2015 Sydney Royal Easter Show Bitch Challenge
Opposite Veteran in Show at the 2014 Labrador National
2nd Place Open Bitch at the 2012 Labrador National
Multiple Best in Group and Runner-Up Best in Group awards
Multiple class in show awards
Critiques:
Labrador Retriever National - South Australia July 2017
Judge - Mr Philippe Lammens (Misty Dreams Labradors, Belgium)
Opposite Veteran in Show
Powerful yellow, a lot of qualities on this bitch Beautiful head, expression and pigmentation Strong neck, exc topline and tail set Well angulated front and back Powerful body, powerful back end In super condition Exc coat, bones and feet Moves very well
Labrador National Qld July 2014
Judge – Mr G Johnson (Cremino UK)
VETERAN BITCH
1st Another good yellow from this kennel, 8 years old and quality all through. Thought her just lovely, so well balanced and cleanly built. Most super neck and shoulders with good layback and return of upper arm. Well developed quarters used well to propel her around the ring, sound bone and short hocks. Great spring of rib and firm across the backline. Wonderful head and expression, so feminine showing a willingness to please. She was close up in the final challenge.

7th Labrador National Championship Show Victoria - May 2012
Judge - Richard Edwards (UK)
2nd Open Bitch
A proper Labrador so full of yellow type and quality but with the necessary substance and bone yet not overdone. Loved this bitch's head and expression and her overall style. She presented a lovely clean balanced outline She moved well enough and unlucky to meet the winner but she was not in best coat, not much you can do about that, but it makes a huge difference on the day. Handled to advantage.
Pedigree
Aust & NZ Ch Croftsway Touch of Frost

Poolstead Picture Book (UK)

Eng Sh Ch Poolstead Pipe Smoker (UK)

Poolstead Palm Sunday (UK)

Croftsway Jazz Dancer (NZ)

Can Ch Driftway Dare to Dance

Coftsway Annie Oakley (NZ)

Aust Ch Balarishnan Catriona

Aust Grand Ch Driftway Regal Oak

Eng SH Ch Rocheby Royal Oak (UK)

Aust Ch Driftway Sailors Lass

Aust Ch Gallybob Inca (imp UK)

Eng SH Ch Sandylands Gad-About (UK)

Slanwood Hope and Dreams (UK)